Sunglasses are synonymous with summer, purveying effortless cool and protecting our eyes from the sun's harmful ultra-violet rays.  From Hollywood celebrities to entrepreneurs, rock stars to families, high quality polarised sunglasses help keep you stylish – and your vision healthy – throughout the sunny months.
But shades weren't always the ultimate summer accessory.
Glasses for eye protection date back to prehistoric times, when Arctic Inuits wore eyemasks made from flattened walrus ivory with carved slits to prevent them squinting.  Known as nigaugek or igguag, this prehistoric eyewear blocked some of the sunlight bouncing off the bright white snow and helped hunters focus their vision and avoid painful 'snow blindness'.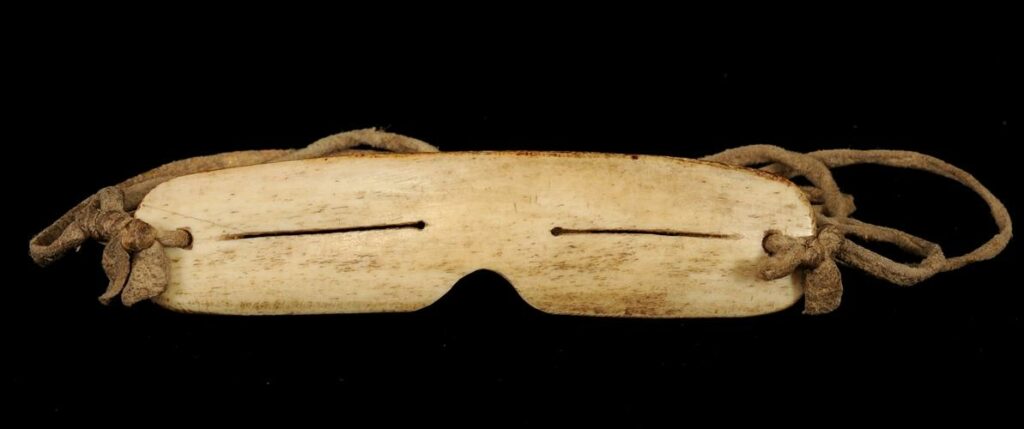 The first glasses for eye protection (image credit: iCollector)
Next up the Roman Emperor Nero supposedly watched gladiator fights through polished gems during sunny days in the Colosseum, while in 12th century China judges wore smoky quartz eyewear known as Ai Tai – or 'dark clouds covering the sun' – to shield their facial expressions as they interrogated witnesses in the courts.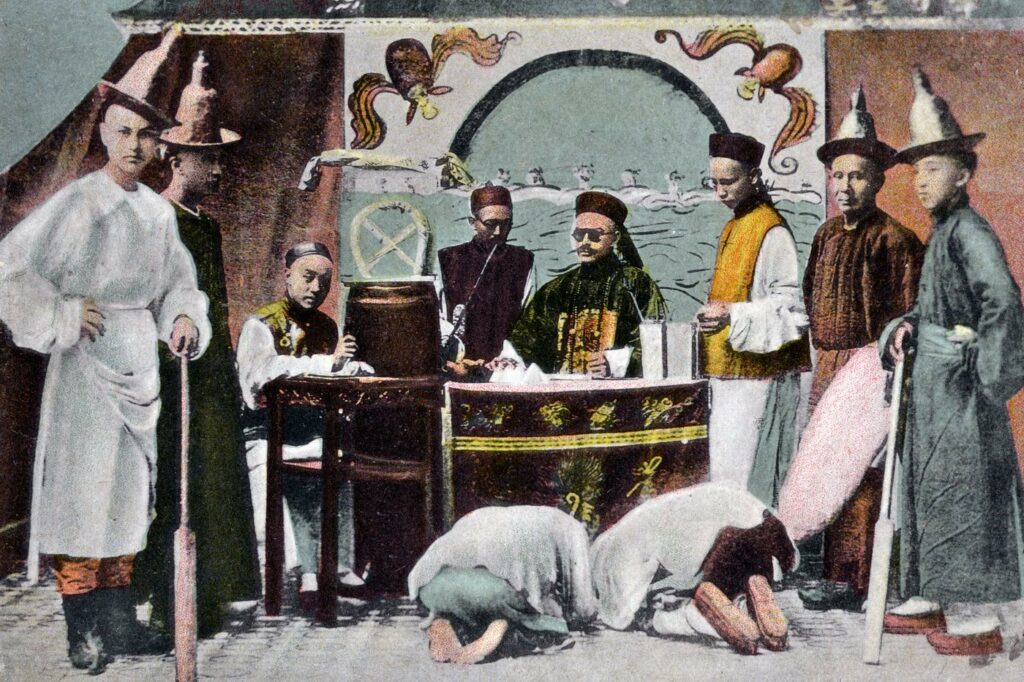 Sunglasses worn by Chinese judges in court (image credit: Stories of the World)
But it wasn't until the 18th century that tinted lenses were used in glasses for eye protection from the sun.  Goldoni glasses – named after the shades-wearing playwright Carlo Goldoni – were adopted by Venetian gondoliers who wore these rudimentary shades to protect their eyes from glare on the sunny canals.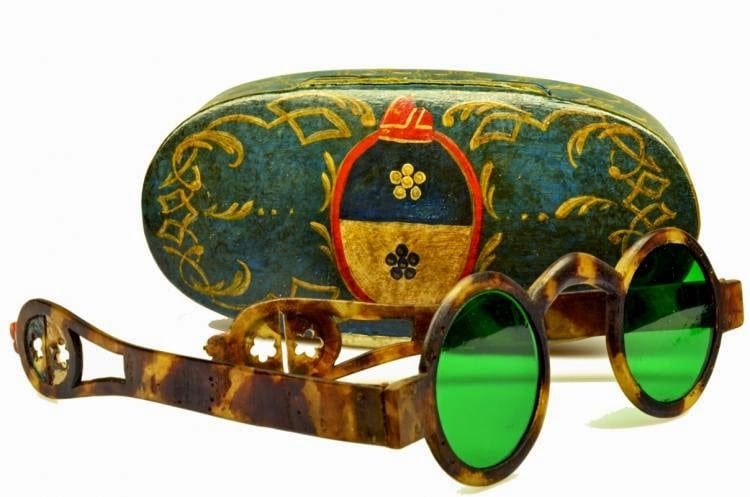 Goldoni-style glasses for eye protection (image credit: Venetian Cat)
Sunglasses' purpose would remain purely practical for many centuries. In the mid-1700s English optician James Ayscough started experimenting with blue and green tinted lenses in spectacles to correct vision impairments and to alleviate light sensitivity for those inflicted with syphilis. These 'prescription sunglasses' often came with a metal nose attachment – to replace the disfigured nose of their wearer – and began a long association with sickness.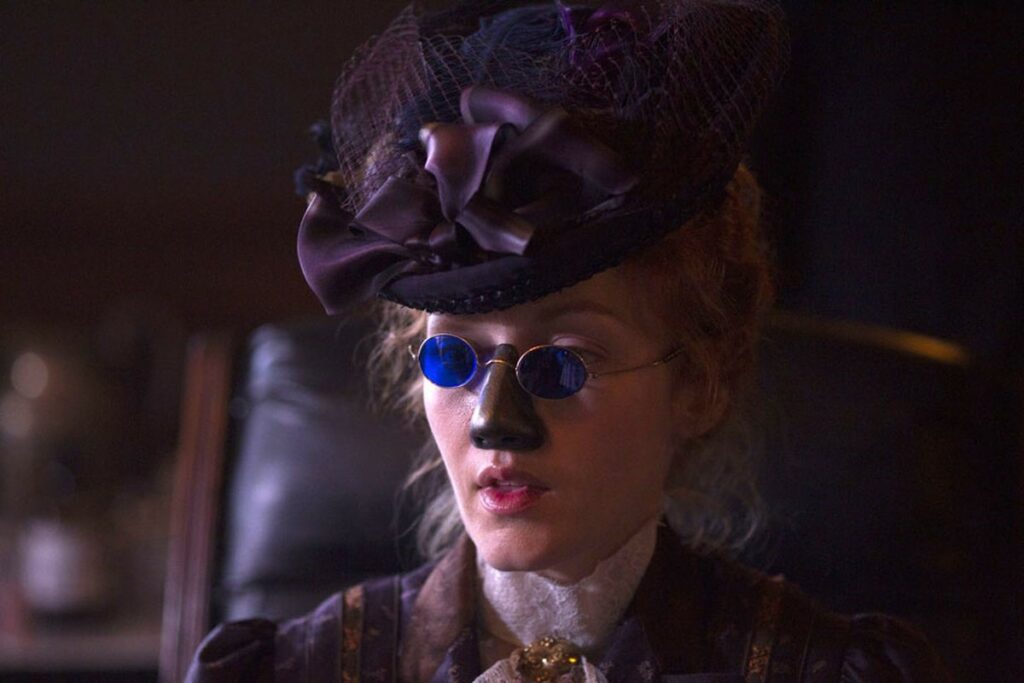 Syphilis prescription sunglasses (image credit: Racked)
By associating with sickness induced by Victorian promiscuity sunglasses were also associated with sex and sin, which became an altogether more attractive prospect in the 1900s with the rise of Hollywood.  Early paparazzi used blinding mercury flashes in their cameras to capture pictures of the rich and famous, so celebrities took to wearing dark glasses for eye protection and a degree of mysterious anonymity.  Soon silent movie stars were wearing shades in their films and the accessory took hold of the public imagination.
In 1929 Sam Foster was the first pioneer to mass-produce eyewear with the primary purpose of protecting the public's vision from the sun's rays.  He sold them from the beaches in Atlantic City and sales were bolstered with magazine endorsements from celebrities.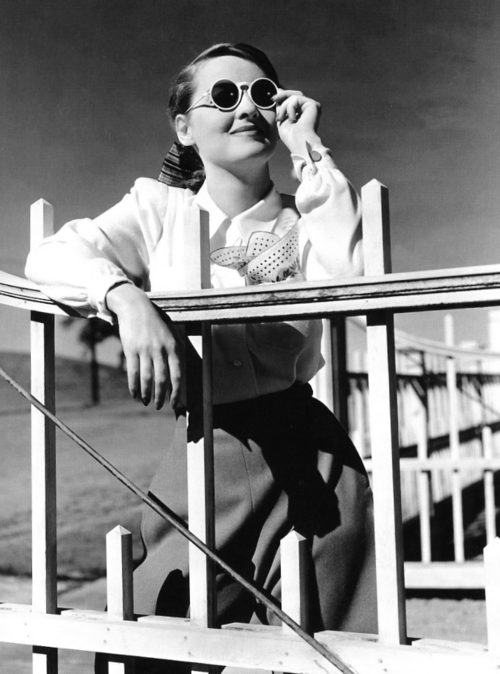 Bette Davis posing in sunglasses in the 1930s (image credit: Pinterest)
The next pivotal moment in sunglasses' timeline came in 1936 when American inventor Edwin H. Land patented the use of Polaroid filters in eyewear, a technology that blocked glare from reflected light, thus inventing the world's first polarised sunglasses.
This technology proved vital during World War Two when the US Army Air Corps commissioned eyewear manufacturers Bausch & Lomb to design lightweight glasses for pilots struggling to see against the sun's glare at high altitude.  A high tech replacement for flying goggles, these iconic aviator Ray-Ban sunglasses became standard gear and by 1937 the style had gained widespread public appeal.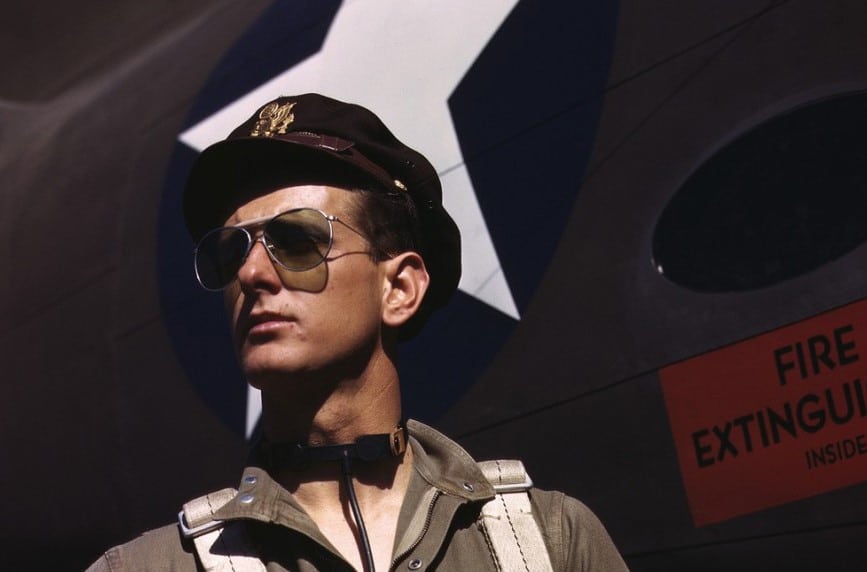 Ray-Ban sunglasses – the first mass-appeal polarised sunglasses on the market (image credit: Google Images)
By this point built-in UV protection was industry standard, and increasing numbers of prescription sunglasses manufacturers turned their attention to crafting a fashionable array of elegant styles and shapes. Marilyn Monroe popularized cat eye sunglasses in the 1950s, the oversized shades favoured by Jackie Kennedy was trending a decade later, the 1970s saw Lennon-esque small oval styles adorn the faces of free-spirited youths around the globe, while pop culture dominated the 80s and 90s with bright colours and outlandish shapes turning heads.
Today, shades are the must-have accessory of the summer. Brands such as Anna Sui, Flexon, Polo and Ralph Lauren and Visage craft innovative collections year after year, using past designs to inspire the latest modern styles. At Just4Specs we're proud to stock one of the most extensive collections of designer shades on the web, so if you want to invest in a new pair of polarised sunglasses or prescription sunglasses, look no further than our online catalogue to keep your vision protected – and eyes stylish – for many summers to come.
Or if you'd rather speak to one of our highly trained staff members, please call 0203 872 2286